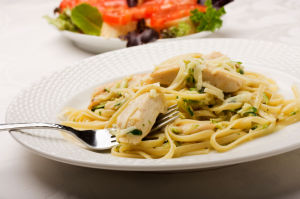 Last Sunday I invited a friend over for lunch. He was due at 1:00 P.M. PROBLEM: I didn't get up until 11:00 A.M. and had nothing cooked! SOLUTION: I went and got 2 rotisserie chickens and made a Caesar salad. Plain but tasty. However, I had a lot left over. So, I made chicken salad sandwiches for school on Monday and finished the rest of the chicken tonight in a casserole. It was delicioso! Here's what I did:
First, I brought a large pot of salted water to a boil and cooked 12 oz. of spaghetti. Then, I shredded about 2 cups of left over chicken. I sliced 8 white mushrooms and put everything into a bowl.
To that I added 1 1/2 cup sour cream, 1/4 cup milk, 1 tablespoon mustard, fresh ground black pepper and 1 cup shredded Asiago cheese – no salt, there was enough in the cheese and the chicken already. I mixed it all well and put it into an oven proof casserole dish. Then I sprinkled some more cheese on top and added small pieces of 1 cut up tablespoon of butter.
The casserole went into a preheated oven at 400 degrees for 20 minutes.
I served it with some grape tomatoes on the side.
Guess what I am doing with the left overs? Yup! In a thermos to school for lunch it goes. Now, I spent about $9 on both of these chickens at Costco and got 3 meals out of them. Not too shabby!
Print the Chicken Noodle Casserole Recipe Here